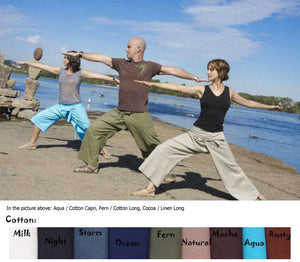 Traditional style Thai Fisherman Pants designed by Nomadz. Ideal for chillin', travelling, yoga, and a wide variety of activities where comfort comes into play. The pants are unisex and come in a "one size fits all" waist - material is folded over to fit to your waist. This also makes them ideal for maternity. All pants also now include a small slit pocket on the side, ideal for some cash or cards. They are available in two lengths (capri and long) and the highest quality cotton.
Always wonderfully consistent!
I have been wearing fisherman pants from Nomadz for many years now and with each order I am impressed at how consistently high quality they have been over all these years.